Timelines are pretty common visualisations, there's a lovely history of them here from Cabinet Magazine. My current project is looking at representing narratives and drama online and as part of this I've been researching existing visualisations of narratives and stories, some of which I've collated below along with my own sketches and thoughts. They're in approximate order of complexity and we start off with some relatively simple hand-drawn diagrams illustrating general plot features.
The Archers
A hand-drawn diagram from one of the scriptwriters on The Archers radio drama. It shows the intensity of the storyline for each character over the week.
x: time, y: intensity of story, a line per character
Cinderella
Another hand-drawn diagram, this from Kurt Vonnegut in his book, Palm Sunday discovered via this post. He shows the Good or Ill fortune of the protagonist over the duration of the story. The steps up represent the gifts from Fairy Godmother to Cinderella culminating in a plunge at the stroke of midnight when everything changes back again, but then the prince finds here and she lives happily ever after (tends to infinity).
x: time, y: fortune
Tristram Shandy
Illustrations from Tristram Shandy
by Laurence Sterne circa 1760. Described by Cabinet Magazine as "indicating the non-linear path of a well-told story; narrative digressions appear as deviations from a straight line.".
x: time, y: digression
Napoleon's invasion of Russia
The classic infographic from Charles Minardi, "Carte figurative de pertes successives en hommes de l'Armée Française dans la campagne de Russie 1812-1813" represents the story of Napoleon's march into Russia and shows location, time and his army size.
x/y: map, width: size of the army, annotations: events and temperature
Now onto some interpretations of plot and episode structures.
Hill Street Blues
Diagrams from Steven Johnson's Everything Bad is Good for You
illustrating the increase in complexity of contemporary television drama and the evolution of multiple storylines. The featured image shows a Hill Street Blues episode with each grid square representing a scene and each row representing an individual storyline.
x: time/scenes, y: storyline
Jazz on 3
Following on from Steven Johnson's diagrams I drew these a few years ago showing the fractal-like nature of nested events in TV and shows. "The radio show (Jazz on 3 in this instance) can be broken down into segments - the introduction, a discussion of the artist, interviews and a live session. Each of these segments is further broken down (in green) into the individual interviews and the individual tracks.". This could also apply to TV and radio drama.
x: time, y: scenes
The Archers again
This comes from a project a couple of years ago to build a web app that segmented the Archers radio drama into individual scenes and marked up each one with relevant facets. This diagram illustrates how the episodes are split up and how ongoing storylines would thread their way through the episodes.
x/y: time/episodes/scenes, annotations: facets and storylines
Movie narrative charts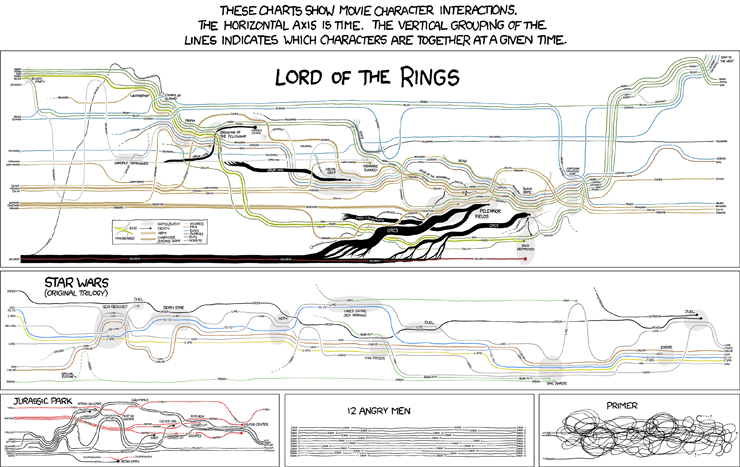 And then there's this classic from xkcd to "…show movie character interactions. The horizontal axis is time. The vertical grouping of the lines indicate which characters are together at a given time.". The Lord of the Rings diagram is beautifully constructed to simultaneously show time, character groupings and major locations and events.
x: time, y: character and groups, annotations: places and events
Stories are rendered as TV Programmes
I recently drew this after considering TV drama and how a show is a particular rendering of a story into the form of TV. The conceptual story happens along a timeline with significant plot events marked. These events are then rendered in scenes in the TV programme thereby creating a programme timeline. But sometimes events may be portrayed in multiple scenes, as flashbacks or different points of view for example. And sometimes a single scene on the TV may portray multiple narrative events. An ongoing story arc comprises many events in the timeline from many episodes.
x: time, y: rendering, annotations: connections and storylines
Memento
The film Memento is a particularly good example of using a complicated structure to create a compelling story and Density Design have created this set of visualisations based on it. The example above has slices showing the order of the scenes in the film and then the same scenes re-ordered as they would have been experienced by the protagonist. This diagram is also interesting and shows character involvement as a coloured bar in each scene, ordered both by film- and real-time.
x: time, re-ordered by film or real timeline, colour: b&w or colour scene
Now let's have a look at some time travelling stories which makes things a bit more complicated…
Doctor Who: Blink
This diagram comes from my colleague Paul Rissen who has been doing some very deep thinking about modelling narratives in data. It is based on events from the Doctor Who episode Blink) that features characters being thrown back in time. The diagram shows various timelines from the show - the timeline from the perspective of the main character, Sally (which is the same as the timeline shown in the broadcast episode), the universe timeline (i.e. how events occurred in linear time and different from the episode) and the timelines of various other characters who time travel in the episode and thus experience events in a different order.
x: time/scene (re-ordered by character), annotations: connections
Time travel from fiction
An original work from Information is Beautiful showing all the time travel in various films and books on a single timeline.
Universe timeline, annotations: time travel
George Bush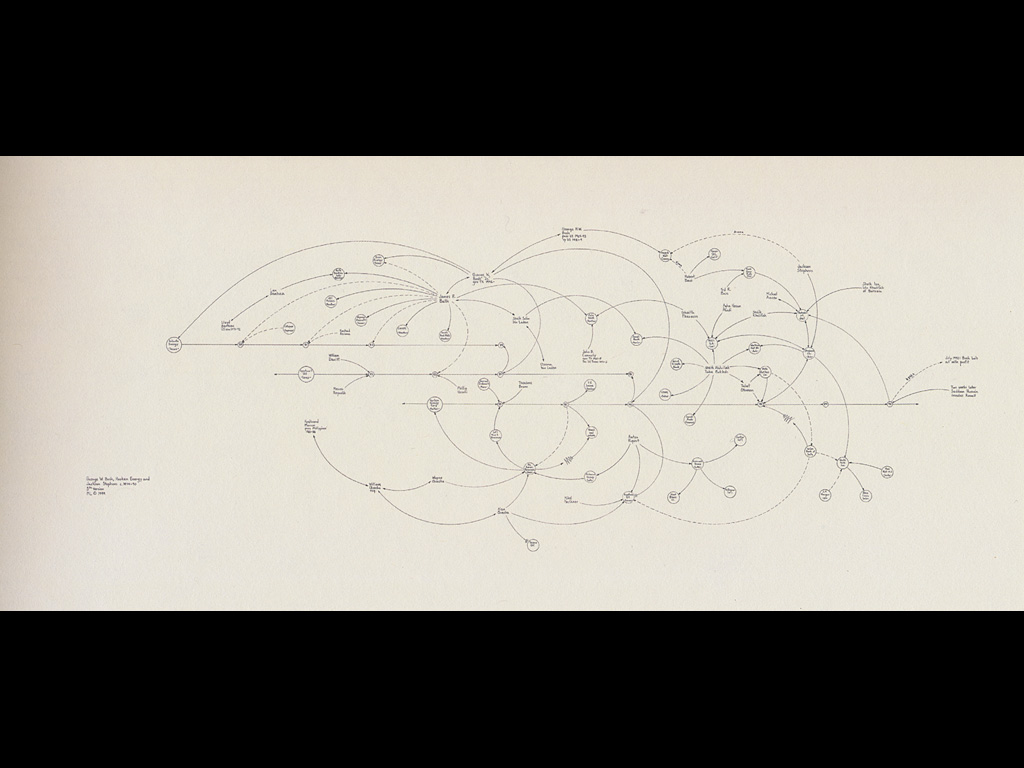 Ben Fry talks about these complex hand-drawn depictions by Mark Lombardi of "social/commercial interactions and their hierarchies, and politics" where "…he began to create drawings such as this one to depict the complex narratives he would uncover through his curiosity about anything from failed banks to corruption in government to organized crime.". This one shows the investments and relationships of George W Bush. An interesting combination of a timeline and complex relationships.
x: time, annotations: relationships and connections
Jules et Jim
Finally, another set of film visualisations from Density Design based the the film Jules et Jim. The one shown above uses the curve of the storyline to represent the feelings and involvement of the three characters. There are lots of others in the set.
x/y: storyline and feelings, colour: involvement
I'm particularly taken right now with the very simple illustrations of the shape of the story from Kurt Vonnegut and I'd like to incorporate something like that into our project. And time travel also gives you a lot more to play with. Have you seen any more story visualisations that you like? Please add them in the comments below.